1) DEFECTS INSPECTION FOR NEW, RESALE, RENTAL & RENOVATED PROPERTIES
 
Absolute Inspection can conduct comprehensive assessments on your property, including:
Newly TOP projects,
Resale properties (Pre-purchase inspections),
Rental properties (Pre-tenancy and Post-tenancy inspections),
Renovated properties (Post-renovation inspections).
We will identify defects and unacceptable workmanship finishes within three specific fields – architecture, mechanical (plumbing) and electrical systems. Our findings, which are based on the quality standards adopted by BCA and the industry, will be documented and used to initiate the rectification process by the builder. Once rectification is done, our inspector will inspect your property to ensure all rectification works are done satisfactorily and according to the prevailing quality standards.
REDUCE FUTURE REPAIR COSTS
Some defects surfaced only after years and by then, you have to fork out your own cash to pay for repairs which may be costly. With years of experiences and professional tools, our qualified inspectors can detect potential issues for your developers to rectify  before your Defects Liability Period expires. Take action now and save yourself from repairing detectable defects in the future.
OWNER'S PEACE OF MIND
Our qualified inspectors go beyond visual architectural inspection. They assess functionality of M&E fittings and fixtures, electrical points etc. Leave your home inspection to the expert and you can have a good night's sleep knowing that your new property will be in good condition in years to come!
100% SATISFACTION GUARANTEE
After going through the 1st round of defects inspection and marking out the defects found, our inspectors will document the defects for onward submission to the developer. Our service doesn't stop there. Our inspectors will run through the list of defects with the developer in the 2nd appointment, and conduct a 3rd inspection after developer has finished the rectification works to verify that the defects have been rectified to the owner's and our inspector's satisfaction.
2) DISPUTE RESOLUTION ON CONSTRUCTION & RENOVATION WORKMANSHIP
The Royal Institution of Chartered Surveyors (RICS) is a professional body promoting and enforcing the highest international standards in the valuation, management and development of land, real estate, construction and infrastructure.
Absolute Inspection is qualified to provide the following consultancy services:
Phase 1: Pre-Purchase Appraisal – Impartial site assessment and validation of existing interior conditions to help you gauge the magnitude of renovation / rectification works required. The last thing you want is to be ill-prepared for the cost and time involved to move into your new space, caused by unknown defects or the approval required for certain works. We flag out early the various factors which will deter your objectives in getting the space.
Phase 2: Validation of other IDs' Quotations and Proposals – Not sure if your appointed contractors or designers are giving you the best deal / advice? We can evaluate the quotations and proposals you received from others and provide you a neutral second opinion. We strongly believe a home is only complete when it is designed and constructed to be functional and appropriate for your lifestyle.
Phase 3: Independent Review and Expert Witness Services – Should you have disputes with or do not agree with the quality of work completed by your appointed designer, we are able to act as neutral party to provide an independent assessment on the reasonable-ness and quality of works done.
One of the Cases which We Helped our Client to Win
https://www.tnp.sg/news/singapore/condo-must-pay-unit-owners-85000-after-false-ceiling-collapses
3) BCA PERIODIC INSPECTION OF BUILDINGS

All buildings in Singapore, except for detached, semi-detached, terraced or linked houses which are used for residential purposes and temporary buildings, need to be inspected regularly by structural engineers in accordance to Section 28 of the Building Control Act.
Such inspections ensure that structural defects due to lack of maintenance can be detected and rectified early to keep buildings structurally sound for continued occupation. Through such inspections, appropriate measures can be taken to prevent further deterioration.
Besides inspecting your building for structural defects, our Professional Engineers will be able to assist with the purchase of your building's structural layout plans from BCA.
4) WATERPROOFING & PLUMBING TROUBLESHOOTING & SOLUTIONS
 
Absolute Inspection offers technical expertise to solve water leakage issues, including ceiling leakage, leaking bathrooms, balcony, floors, etc. As part of our waterproofing service, we also provide waterproofing consultancy including thermographic scanning, diagnosis and problem solving for water leakage issues. This is often accompanied by site visits and rectification proposals.
We also have trained, licensed plumbers who can investigate and resolve plumbing issues for property owners.
5) MOULD INSPECTION & REMEDIATION

  
With the help of our certified mould inspector & remediator, Absolute Inspection is able to investigate the origin and cause for mould, test for species' toxicities and provide specialist advice to property owners. In addition to testing and diagnosis, we also provide remediation works for mould-infested areas.
Some Examples of Our Checks
Architectural 
CEILING
Is there any water seepage?
WALLS AND FLOORING
Are there suspected structural cracks? Are there hollow tiles?
FURNISHING
Are there defects in the built-in furnishing?
Mechanical
PIPING
Is there corrosion? Are the pipes dented or poorly connected?
WATER OUTLET
Is there sufficient water pressure? Any leak in the water piping?
WATER PONDING
Is the water flowing properly into floor traps and floor waste? Are there areas that are prone to water ponding?
Electrical 
CIRCUIT BREAKERS
Is the wiring done properly to prevent frequent tripping of circuit breakers? Are the terminal connections secure?
WIRING
Are the outlets properly grounded? Are the wires well-insulated?
AIR-CONDITIONING
Are there problems with the compressor unit?
"For buyer, waiving the option to have a professional inspection… can have major repercussions in the long run."
Scope of Assessment (quality standards adopted from industry norms & BCA CONQUAS):
A) Architectural Works Assessment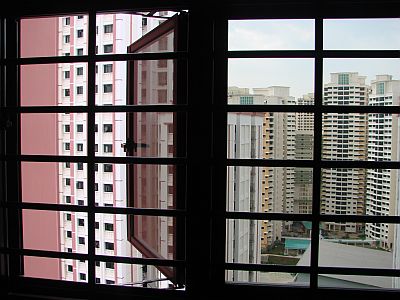 Other Components, e.g. carpentry works
B) Mechanical & Electrical Works Assessment
Plumbing & Sanitary Systems